There is enough shoreline to go around, and restaurants in Broward County take advantage of the serene oceanic surroundings. Whether you are going out for a family meal, date night, or celebration, there is a dining establishment perfect for every occasion.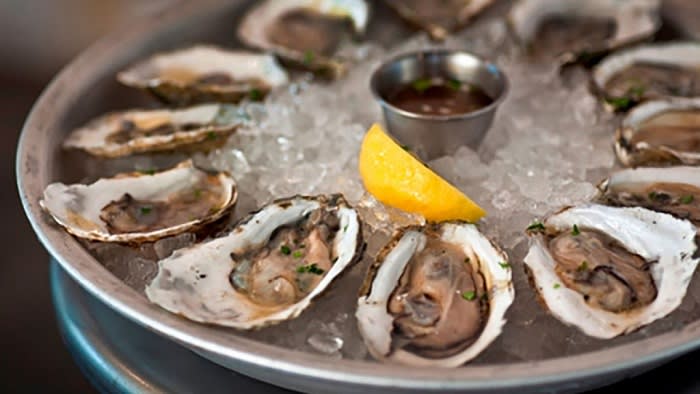 Seafood
G & B Oyster Bar is an upscale restaurant located on the Atlantic Intracoastal Waterway. Watch the cooks shucking oysters through the mirror above the oyster counter while you savor salty marine delights. Start the meal with some smoked fish dip and peel & eat shrimp. For those who prefer fares of the land, the steak salad featuring artisanal blue cheese and champagne vinaigrette is a great choice. A New England-style lobster roll is always a crowd-pleaser, and you can opt to add bacon for a crunchy, salty treat. More meat lovers options include the Danish baby back BBQ ribs and the yardbird marinated in rosemary, garlic, and lemon. Seafood served after 5 pm includes ahi tuna poke, grilled oysters, crispy snapper, and lobster green goddess salad. Savor your meal with a blonde ale and finish with a slice of peanut butter pie for ultimate decadence.

Sea Watch On the Ocean is open for lunch, dinner, and Sunday brunch and features a substantial wine list. This restaurant serves refined seafood, boasts old-time Florida decor, and has floor-to-ceiling windows with stunning ocean views. Stop by for Sunday brunch mimosas and lobster benedict with some friends, nosh a jumbo lump crab cake with mandarin-peanut slaw for lunch, or try the blue Main cod fish-n-chips. A smoked salmon tartine is an excellent appetizer to share on date night. For surf and turf, a classic lobster tail and filet with Bearnaise should suffice. If you're ready to go all-in with seafood, you must get "The Original Sea Watch Medley," complete with lobster tail, shrimp, and broiled scallops brushed with garlic butter and white wine, or the timeless seafood stew, Bouillabaisse. A fantastic seafood dinner wouldn't be complete without a glass of pinot grigio or chardonnay, and the collection here is vast. With oceanic fares and a view to match, this restaurant is a must-visit.

Burlock Coast is a premier oceanfront restaurant located in the Ritz-Carlton of Fort Lauderdale. Open from breakfast through dinner, this establishment also features a daily happy hour. Farm-fresh seasonal vegetables adorn the breakfast menu with the spicy farmer's delight omelet served with mixed peppers, onion, squash, and pepper jack cheese. Coffee at breakfast is a must, and Burlock Coast uses locally roasted Panther Coffee for its caffeinated offerings. Monday through Thursday, happy hour goes from 5-9 pm, featuring tacos & tequila, burger n' brew specials, and more. TGIF happy hour boasts 2-for-1 drinks, while bottomless mimosas, bloody marys, and rum punch are served at Saturday and Sunday brunch. A half-dozen East Coast oysters or a charcuterie & artisanal cheese platter are excellent appetizers to share at dinner. Savor the freshest fish possible by enjoying the seared catch of the day, served with ricotta gnocchi, roasted mushrooms, and Malabar spinach pesto. The tender pork chop with Thai-style vegetables, confit potatoes, and plum jam is a tasty option for those not keen on seafood. The cocktail list is teeming with delicious beverages, with rum being the focal point. This restaurant is a fantastic option for farm-fresh, seasonal cuisine.

Con Murphy's is an Irish pub with American influence, offering tasty drinks and a laidback, welcoming atmosphere. Bar food delights include seafood stew, Murphy's fries seasoned with Old Bay and served with three-cheese fondue for dipping, fried grouper bites with remoulade, and wings of various flavors. Drooling yet? For a heftier dish, try the shepherd's pie or the Guinness beef stew. Signature cocktails include the Irish old-fashioned, made with Jameson Black Barrel whiskey, house simple syrup, orange, cherry, and Angostura bitters. Coffee cocktails include Irish coffee and Bailey's coffee, served hot or iced. Whether you sip a Guinness Stout with your fish n' chips or a painkiller cocktail with your Philly cheesesteak, you'll love the atmosphere, eats, and drinks of this Irish Pub-gone-American. 
International
A Mexican oasis with matching decor, El Vez is a fantastic spot to grab a frozen blood orange margarita and a steak quesadilla. The casual Baja-inspired menu and tasty drinks make for a fun, relaxed ambiance to enjoy happy hour with friends. El Vez hosts happy hour Monday through Friday, is open nightly for dinner, and boasts a grab-and-go section for quick bites. Happy hour drinks are all five dollars and include house wine, Cerveza, and margaritas. Chips & salsa are a great bar snack, served up with salsas roja, verde, and pico de gallo. Specials include the El Vez Burger, served with American cheese, roasted green chiles, and jalapeno Russian dressing, and branzino Baja style, boasting a whole fish with watercress and pickled jalapeno. Compliment your crispy mahi-mahi tacos with a side of grilled corn, some churros for dessert, and you're set.

Cafe Ibiza is a trendy Mediterranean-inspired spot featuring a daily happy hour and live music. Open from eight in the morning to midnight, this restaurant serves food appropriate for all hours of the day. Start your day with a hearty plate of steak & eggs or a light, fresh fruit platter. Grab lunch with friends, complete with Gulf Coast and Blue Point oysters, coconut shrimp, and a traditional mezze of hummus, tzatziki, babaghanush, feta dip, smoked fish, and pita. Try the seafood sampler for dinner along with a citrus sweetheart cocktail, complete with New Amsterdam grapefruit vodka, basil, lime, simple syrup, and orange peel for a zingy and refreshing treat. Signature cocktails are inventive, but various wines, draft, bottled, and local craft beers are also found here. Tasty food with craft cocktails, Cafe Ibiza is a fantastic restaurant for a date night or dinner with friends.

Relish a gorgeous view of Fort Lauderdale Beach on the oceanfront Spazio. This posh, unpretentious Italian restaurant and wine lounge is open for breakfast, lunch, and dinner. Rise and shine with a meat & cheese omelet made with soppressata and mortadella or some fluffy buttermilk pancakes. A light lunch of beef carpaccio, grilled octopus, or ceviche is perfect for beachside dining. Pappardelle pasta with blackened chicken and curry cream is a filling and savory dinner option. For something sumptuous and seafood-centric, get the lobster & champagne risotto served with Mediterranean mussels, littleneck clams, and an eight-ounce lobster tail. Dinner wouldn't be complete without a plate of bruschetta to start, and the chef's special stuffed veal chop, bursting with prosciutto, provolone, and mozzarella, with a side of plank potatoes and roasted garlic demi-glace, is a wonderful choice. Your children will adore a personal pizza or a simple pasta bowl with butter or marinara. Don't sleep on the cocktails, as the list has fabulous options like the lychee martini made with Stoli gold, lychee juice, and a splash of vermouth. Italian fare with complex flavors and beachy vibes, this spot is a winner. 
Cafes & Grills
A fusion of American and Mediterranean eats, Casablanca Cafe offers an intimate atmosphere with inviting dining rooms and scenic views of Fort Lauderdale Beach from the terrace. You can savor a fantastic meal anytime as they're open for breakfast through dinner. A roasted vegetable frittata brimming with seasonal vegetables, sundried tomatoes, basil, and feta is served alongside your choice of home fries or grits with toast. Enjoy a casual yet upscale lunch complete with a caesar salad and pan-roasted salmon. For dinner, you must try the decadent phyllo-wrapped baked brie appetizer, made with blueberry chutney, alongside sliced French baguette, candied walnuts, and fresh fruit. Vegetarians will appreciate the roasted eggplant ravioli, while seafood lovers will cherish the deep sea linguine. Wine, beer, and cocktails are available to wet your whistle and add to the intimate evening vibes.

Sandbar Grill is located within Sun Tower Hotel & Suites and offers guests a relaxed atmosphere and approachable American cuisine. Opt to create your three-egg omelet for breakfast, so you can savor it exactly how you like it. Kids love the tasty sticks of French toast for breakfast and chicken tenders for lunch. Start dinner by sharing some south of the border nachos or hot spinach and artichoke dip. A lobster roll is always a favorite, or a big juicy mushroom swiss burger will satisfy your red meat craving. With BBQ ribs, red snapper, and more, the entree list does not disappoint. Bistro salads are filled with fresh vegetables, and flatbreads are a crispy and melty treat. Happy hour is daily from four to seven and offers all kinds of discounted snacks.

McSorley's has traditional Irish pub vibes and boasts an upstairs lounge, rooftop bar, and outdoor cigar bar. A great joint to host a party or special event, it's also a fantastic dinner spot to enjoy any night of the week. The food menu is delicious and uncomplicated. Everyone loves some melty deep-fried mozzarella sticks or spicy jalapeno poppers. Burgers and sandwiches include tuna melts and salmon BLTs. Feast on some Irish favorites like bangers & mash and 
stout shepherd's pie. Don't neglect dessert, as McSorley's serves decadent homemade Baileys chocolate pie. Expect a fun night out complete with drinks and bar eats here at McSorley's.

Ready to explore the best of Broward County Luxury real estate? Contact Luxury Homes by Patty Da Silva today to start your home selling (or buying) journey. From Fort Lauderdale to Davie to Weston luxury homes for sale, allow Patty's experience and expertise to be your guide to South Florida.